ARCHIVES: PAST MEETINGS


Photos and video from the past 12 months will be displayed on the Announcements and News page. This Archives page contains photos, video, and meeting memories that are more than 12 months old, organized in descending order by year.
NOTE: Photos and videos that appear on this page are the original work of Ellen Clark or other Gamma Chapter members, and have been posted with Gamma members' premission. No copyrighted images have been used without express written permission from their owners/creators.
AT THE CLOSE OF EACH MEETING
GAMMA MEMBERS SING DELTA KAPPA GAMMA SONG
Watch (and listen to!) the video below of the Gamma, Ohio chapter members singing the Delta Kappa Gamma song.
2018
DECEMBER MEETING: THE OHIO STATEHOUSE
On December 1, 2018, Gamma Chapter members met at the Ohio Statehouse for a tour of the building and chambers. We then went to BurgerIM for lunch afterward.
NOVEMBER MEETING AND INITIATION OF PAT FARRENKOPF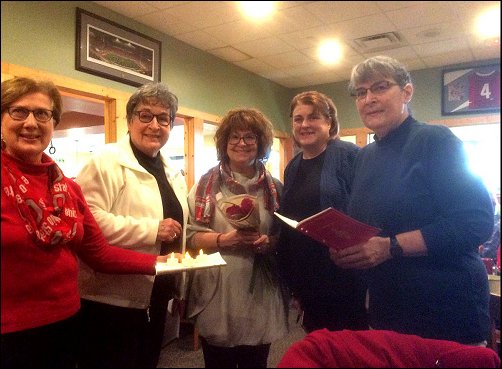 L-R: Dorene Henschen, Willa Mullins, Pat Farrenkopf, Reba Barney, Michele Koenig
Patricia (Pat) Farrenkopf was inducted into Gamma Chapter at our Sunny Street Cafe meeting on November 10, 2018. Welcome to Gamma Chapter!
Prior to our meeting, we participated in a silver sneakers stretching and exercise session at Lifetime Fitness.
JUNE MEETING AND INSTALLATION OF NEW OFFICERS: JUNE 9, 2018
On Saturday, June 9, 2018, Gamma Chapter members met at the Ironwoods Condominiums Clubhouse for a potluck lunch and the installation of our new chapter officers for 2018 -2019. We also honored and thanked our outgoing officers, who led the chapter with great skill and strength for the past year. We were then entertained by the always-popular CEAR (Columbus Education Association - Retired) Notes, who sang a variety of enjoyable songs.
June 9, 2018 Installation of New Chapter Officers: L-R: Linda Ruehrmund, Co-President; Dorene Henschen, Co-President; Sandie Trask-Tyler, Vice-President; Esther Panning, Recording Secretary; Mary Ann Wiedenheft, Recording Secretary; Janet Howson, Corresponding Secretary; Michele Koenig, Treasurer; and Joanne Katonak, outgoing Parliamentarian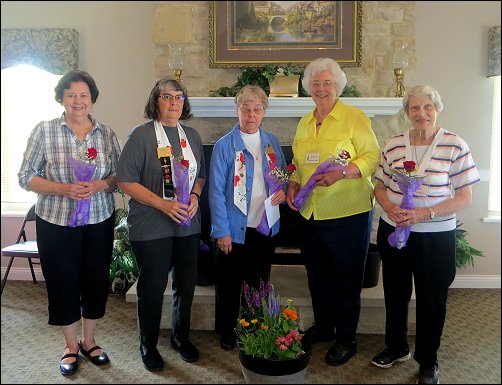 Please click photo to see all 20 meeting pictures
Thanking our outgoing officers (2017 - 2018): L-R: Dorotha Fuhrman, Recording Secretary; Michele Koenig, Treasurer; Judy Valentine, President; Linda Ruehrmund, Second Vice-President; Janet Howson, Corresponding Secretary. Absent from photo: Linda Wright, First Vice-President and Joanne Katonak, Parliamentarian.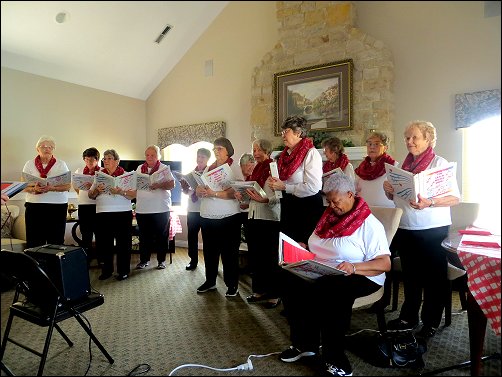 Please click photo to see all 20 meeting pictures
Several of our Gamma Chapter members belong to the CEAR Notes, a group of singers who are all retired teachers from the Columbus City Schools.
ALPHA DELTA STATE CONVENTION: APRIL 13-15, 2018
The Alpha Delta State Convention was held during the weekend of April 13-15, 2018 at the Hilton Columbus, Polaris.
A note from Judy Valentine:
Gamma Sisters,
Thanks so much for your support and attendance at the ADS Convention this weekend. Thanks to your attendance Gamma won the Chapter Attendance Award for 2018. See attached picture.
The award is based on percentage of members in attendance for our membership. Come to the June meeting to see the real thing.
Thanks again for all of your help with greeting and registration.
Judy Valentine
Past President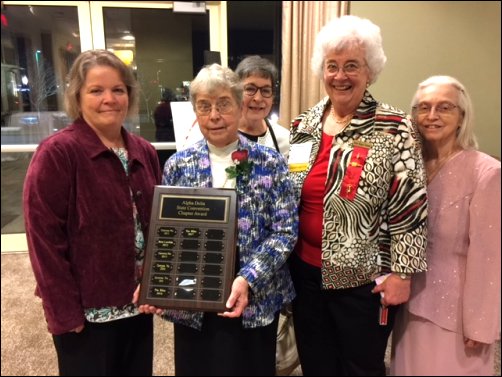 Pictured with the honorary plaque are: L-R: Janet Halter, Judy Valentine, Willa Mullins, Linda Ruehrmund, and Katherine Wheeler.
Thank you to Willa Mullins and Judy Valentine for the photos. Please click each one to enlarge it.
MARCH, 2018 MEETING: SCHOLARSHIP RECIPIENT THANKS CHAPTER
At our March 10, 2018 meeting, one of our teacher scholarship recipients explained how our financial donation helped her to purchase needed supplies for her classroom.
FEBRUARY, 2018 MEETING AT PIZZUTI GALLERY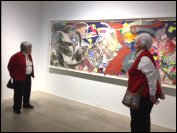 By Sandie Trask-Tyler: On February 10, 2018, we met at the Pizzuti Collection in the Short North for a guided tour of the current works of art.
Our two guides, Mark and Anne, shared their passion and expertise of the exhibits on display through April 29, 2018: PAIR: GLEN BALDRIDGE & ALEX DODGE, LINES/EDGES: FRANK STELLA ON PAPER, and NEW ON THE WALL (N.O.W.).
We all learned so much about the artists while viewing their outstanding and impressive artwork. Thank you to Janet Halter, Willa Mullins, and Sandie Trask-Tyler for contributing the photos in the slideshow.
VIEW THE SLIDESHOW.
2017
NOVEMBER, 2017 MEETING: TEACHER LICENSURE - LISA KUHAR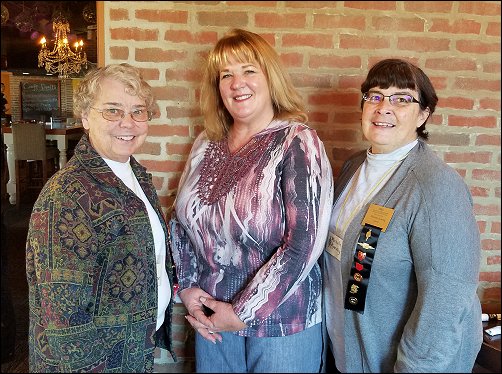 L-R: Judy Valentine, Westerville Teacher Lisa Kuhar, Michele Koenig
At our November 12 meeting at Max & Erma's in Gahanna, we learned a great deal about new teacher licensure from Westerville City School teacher Lisa Kuhar.
Our chapter members learned that the process of becoming a new teacher in 2016 is quite a bit different from the days when we began our careers in education. Standards and requirements have changed and are much more involved and stringent. Lisa gave a very informative and interesting talk about the process involved in staffing our schools with the finest new teachers.
THE HAWK GALLERIES: MARCH 11, 2017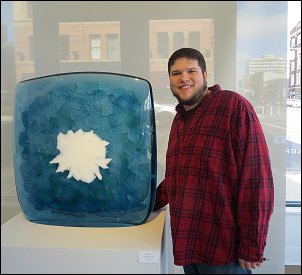 On Saturday, March 11, we met at The Hawk Galleries on Main Street downtown to view and enjoy exquisite artwork and learn about the techniques and practices involved in creating them.
Brandon Brown, a Hawk Gallery Assistant, took us on a tour and explained the history of several of the pieces. Brandon has studied glass blowing at The Ohio State University.
Below are photos and videos of some of the beautiful and mesmerizing glass sculptures and casts that we enjoyed. We thank Hawk Galleries' owner Tom Hawk, and his assistant, Brandon Brown, for this memorable artistic journey into the world of glass.

The piece below was created by Ohio artist Christopher Ries, and is one of several incredibly beautiful examples of the artist's work. See more Christopher Ries creations here.
Below, Brandon discusses artist Bertil Vallien's technique of sandcasting to create Janus Heads. The heads represent Roman gods looking into the future, and involve a multi-step process.
The $1,000,000 creation below is entitled "Passage" and is also the work of artist Bertil Vallien. Brandon Brown explains the sandcast creation.
In the video below, artist Bertil Vallien explains the backstory of his $1,000,000 creation, "Passage," a truly incredible work of art.
See more information about Bertil Valliens here.
2016
NOVEMBER, 2016 MEETING: TEACHER LICENSURE - LISA KUHAR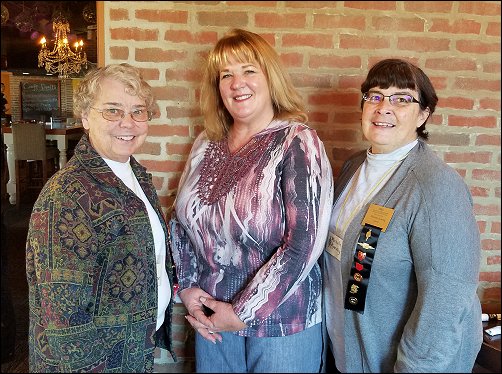 L-R: Judy Valentine, Westerville Teacher Lisa Kuhar, Michele Koenig
At our November 12, 2016 meeting at Max & Erma's in Gahanna, we learned a great deal about new teacher licensure from Westerville City School teacher Lisa Kuhar.
Our chapter members learned that the process of becoming a new teacher in 2016 is quite a bit different from the days when we began our careers in education. Standards and requirements have changed and are much more involved and stringent. Lisa gave a very informative and interesting talk about the process involved in staffing our schools with the finest new teachers.
SEPTEMBER 2016 MEETING: RELEASING THE MONARCHS
At our September 13, 2016 meeting, Michele Koenig continued our education about monarch butterflies and we were able to see the various stages of their development. Then we went outside (what a perfectly gorgeous day!) and Michele released several monarchs into the gardens at Westerville North High School.
As part of her work with Monarch Watch, Michele tagged a butterfly with a tiny sticker that will help track this beautiful creature on its journeies.
JUNE, 2016 MEETING: BEAUTIFUL MONARCHS
At our June 14, 2016 meeting, Sarah Dalton, a retired MetroParks of Columbus and Franklin County Senior Naturalist, discussed a life cycle and purposes of the Monarch Butterfly, and shared many interesting facts and stories about Monarch migration and habits. She used visual aids to demonstrate how butterflies ineract, and how they lay eggs by the thousands. Sarah brought along tiny caterpillars and explained that their striping warns predators that they are poisonous at this stage.
Sarah also emphasized the importance of protecting Monarchs through environmental measures, adding that their natural habitats need to be preserved.
You can email Sarah with questions or visit the Monarch Maniacs of Ohio Facebook page.
APRIL, 2016 MEETING: THE IDITARAD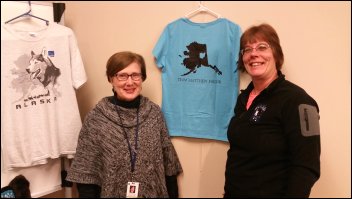 Our April, 2016 meeting focused on the implementatoin of The Iditarod as a cross-curricular subject at The Wellington School.
Gamma member and Wellington teacher Dorene Henschen and her fellow teacher, Becky Fuller, explained how aspects of the Alaskan dog sled race are incorporated into each subject area and at each grade level to create a cohesive focus for part of the year's studies.
Dorene displayed many artifcats from her trip to Alaska to explore the multifaceted Iditarod, and gave examples of specifics lessons in which students participated, all of which used principles of the race in every day activities. She played a video that demonstrated the various lessons, as well as the ways in which students learned.
Pictured above are Dorene Henschen (left) and her fellow Wellington teacher, Becky Fuller.
The Hawk Galleries are located at 153 East Main Street, on the southwest corner of East Main and Fourth Street, in downtown Columbus.
TRIBUTE TO EILEEN YOUNG BY JOANNE KATONAK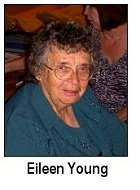 Gamma Chapter of Delta Kappa Gamma International mourns the passing of our longtime member, Eileen Young. Eileen died of a stroke on Wednesday, March 15, 2017.
Joanne Katonak wrote the following tribute to Eileen, inspired by the letters of her first and last names.

You can print the poem here.
EILEEN: E-I-L-E-E-N

E - ENERGETIC! Whether she was working on a project at home or for an organization or church, Eileen would go full speed ahead until each task was finished.
I - INTELLIGENT! Whenever Eileen wrote something for work, or for a project for some organization, or church, her sharp thinking skills surfaced.
L - LOVING! Eileen was especially devoted to her family. She took excellent care of her aging mother. Even as her mother turned 100, she still went to visit her almost daily. And she was always a part of the lives of her nieces and nephews.
E - ENTHUSIASTIC - Eileen was an enthusiastic traveler. She enjoyed going to new places and seeing new things, and meeting new people.
E - EDITOR - Her last job before she retired was as an editor for publications for federal programs within the State of Ohio. Her professionalism always produced excellent publications. One time I had a grant to write for work. When I got it written, I took it to Eileen for editing before I submitted it. She changed a word or a phrase there and added some thoughts of her own to make the document better. I sat there listening to her and thought to myself, "Now why didn't I think of that?"
N - NEIGHBOR- Whether on Hampshire Road, or at the condo in Columbus, or her home in Florida, Eileen was always sociable and willing to give a hand to a neighbor when needed.

YOUNG: Y-O-U-N-G

Y - YEOMAN DOG LOVER - As long as I can remember, Judy and Eileen had dogs. Big dogs, little dogs, sleepy dogs, active yappy dogs; Penny and Patchie being the last. Eileen loved them all.
O - OUTSTANDING FRIEND - If you needed anything, Eileen was there to help ... for Judy, for Sharon, for fellow church members, or as a support for people who belonged to the same organizations that she did.
U - UNINHIBITED BOCCE BALL PLAYER - Since Eileen's activity of playing bocce ball was something she did in Florida, I never got to see her play. But knowing Eileen, I am sure that she was no "wimpy" player.
N - NEWSPAPER DEVOTEE - Every morning with a cup of coffee, with cream, or in the bathroom, Eileen devoured the paper. Even after her stroke, she wanted to know what was in the paper. So friends and visitors read it to her. The last visit I made to see her, she asked me to hold the paper so that she could read it herself.
G - GOD-FEARING CHRISTIAN - Eileen loved her churches and the people in them - both her early membership at Good Shepherd, and later here at Faith. I am sure that when she gets to heaven, God will have a job for her, and she will get it done.
TRIBUTE TO EILEEN YOUNG BY SHARON KREBS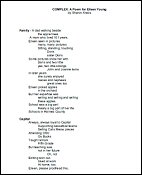 Read a poetic tribute to Eileen Young written by her good friend, Sharon Krebs.
The tribute discusses the complex nature of our Gamma sister and paints a picture of a well-rounded and interesting friend.
2015
SEPTEMBER 15, 2015: TYLER FLYNN, COLUMBUS TUTORING INITIATIVE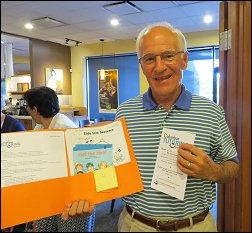 At our September 15 meeting at Panera Bread on Bethel Road, Tyler Flynn, Senior Fellow and Initiatives Team leader of Mission Columbus spoke about the success of their Columbus Tutoring Initiative, which is a joint venture between Mission Columbus and Central Ohio Youth for Christ to provide in-school tutoring for elementary-age students whose reading skills fall below their grade level.
Each tutor works with an assigned student once a week from October through April for approximately 40 minutes (lunch and recess). All tutors receive an orientation in three areas: tutoring, the social and ethnic background of the students, and how to develop a relationship with their student. Tutors work from individualized folders prepared by the student's teacher that include books, word lists, and comprehension exercises that are appropriate for the student's reading level. A volunteer coordinator is on site to oversee each session. More than 300 volunteers are serving in the current school year.
The participating schools include:
Columbus City
Avondale, Sullivant, Starling, Binns, Cranbrook, Weinland Park, Fairwood, Berwick
South-Western
Harmon and East Franklin
Hilliard
Avery, Beacon and Crossing
Dublin
Olde Sawmill, Riverside and Daniel Wright
Westerville
Wilder, Pointview and Hawthorne
Private
Harambee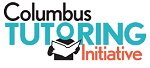 The Columbus Tutoring Initiative is always seeking qualified, enthusiastic volunteers to tutor these elementary school students. If you are interested in offering your services, please visit this page of the TutorColumbus.org web site to learn more, watch videos of current tutors speaking about their experiences, and to sign up.
Questions? You can email Tyler Flynn (our speaker) or call him at 614-761-3638.
JOANNE KATONAK EXPRESSES THOUGHTS IN DISPATCH LETTER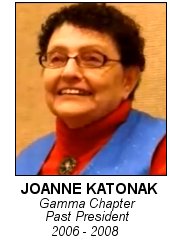 In a July 12, 2015 Letter to the Editor, Joanne Katonak expressed her feelings about the various ways people react to tragedy, and suggested a lesson that was taught by the residents of Charleston SC.
From The Dispatch: July 12, 2015:
In Ferguson, Mo., one man was shot unfairly by police, residents thought. So they rioted, burned and looted for days. In Baltimore, one man died while in police custody, and residents rioted, burned and looted for days.
In Charleston, S.C., nine black citizens were shot during a Bible study by a man committing an alleged hate crime. Residents of that city came together, prayed, loved and forgave.
Lessons to be learned from the residents of Charleston: forgiveness and amazing grace.
JOANNE KATONAK

JOANNE KATONAK'S POEM ABOUT OUR SEVEN PURPOSES
Delta Kappa Gamma was founded so educators could unite,
And enable their professional growth to attain a new height.
The twelve founders in Texas adopted seven purposes.
To unit, honor, and advance the education profession was quite a feat,
For back in 1929 in secret all twelve had to meet.
To endow scholarships and grant fellowships to teachers world wide,
Meeting these goals over the years has given the organization much pride.
Our focus today is purpose number six;
Personal and professional growth of members--
The combination of these two goals makes a good mix.
There are many ways to help yourself professionally grow;
Taking classes, attending and leading workshops;
Or off to Delta Kappa Gamma Conventions you can go.
There are blessings of meeting members from other places.
And at conventions, connecting with familiar faces.
Spending time with the family, visiting friends,
Reading good books and engaging in regular exercise
All will bring happiness and good health.
Our personal and profession well being will be our wealth.
Proud, educated, active Gamma ladies are we.
Setting about carrying out our seven purposes,
Suits our chapter members to a "T."
~ Joanne Katonak, 2015
2014
OCTOBER 11 , 2014: ALISON SHAW AT SHARON WOODS METRO PARK
| | |
| --- | --- |
| | |
| ALLISON SHAW, Naturalist | Wild turkeys outside the Lodge |
At our October meeting, we gathered at the Spring Hollow Lodge at Sharon Woods Metro Park to hear Naturalist Allison Shaw, who covered such topics as the history and development of the Columbus Metro Parks, the various species of wildlife in the park, factors that influence the well-being of the park environment, and the detailed habits of specific species of animals within Sharon Woods.
Allison showed us feathers from turkeys and quail, as well as a taxidermic example of a mink. Especially interesting was a deer antler, which Alison shared with us, describing the development and shedding of the antler, along with the detrimental results of deer overpopulation in the parks.

SEPTEMBER 9, 2014: SARA HAYES DISCUSSES ECOT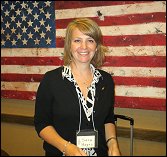 At our September 9, 2014 meeting, Sara Hayes discussed e-learning, and specifically, her experience as a teacher for ECOT (Electronic Classroom of Tomorrow).
Sara explained that today's generation of students is comprised of "digital natives"; in other words, they are children who were born into the digital/computer age. They have different learning styles, needs, and wishes regarding the way they learn about the world around them.
Sara's Powerpoint presentation discussed the differences between e-learning and home schooling, and explained that for some students, e-learning can be an excellent choice: students who have health challenges, those who are victims of bullying in traditional schools, and extremely self-driven students can all be excellent candidates for e-learning. Sara stressed that e-schools must meet the same criteria as public schools on all levels.
The following videos give more insight into ECOT:
How ECOT Works
A Day at E-School
ECOT Graduation - 2012
MARCH 1, 2014 MEETING
At our March 1, 2014, Joanne Katonak discussed the history of the design of the Irish Cross.
BARB CLEVELAND SPEAKS TO CHAPTER ON FEBRUARY 1, 2014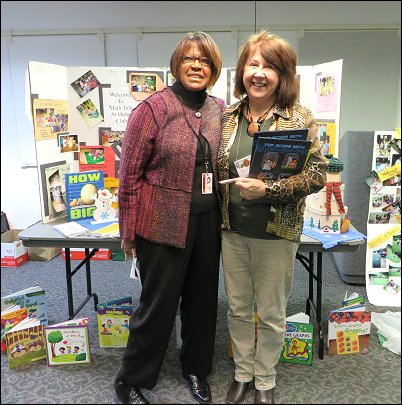 Barb Cleveland and Gamma President Dr. Liz Biglin
Barb Cleveland, Gamma Nu, gave an interesting presentation to Gamma CXhapter on Saturday, February 1, 2014. She was encouraged by members of her chapter to apply for a grant to get Math books for her project to Discover Math Connections in New Ways.
There will be an article in the February Newsletter detailing some ideas from her talk. She also left material for members to read regarding Project Connect in the Columbus City Schools.

See more information about Project Connect here.
2013
GAMMA CHAPTER RECEIVES 2013 GOLD KEY AWARD
Gamma Chapter has been honored once again with the Gold Key Award. Pictured below, our certificate states that the award is given "in recognition of outstanding participation in activities advancing the purposes of The Delta Kappa Gamma Society International."
In 2013 we celebrate Alpha Delta State's 75th Diamond Jubilee, and we are very proud to be honored with the Gold Key Award in this significant year of our chapter's history.
GAMMA NEWSLETTER RECEIVES RECOGNITION
Gamma Chapter also received praise and recognition for our monthly newsletter. The certificate recognizes the Gamma Chapter News as an effective communication publication.
We are extremely grateful to Linda Dolfi for all the time, effort, and creativity that she puts into our very informative and interesting newsletter. Thank you, Linda!
PRESIDENT DR. LIZ BIGLIN RECEIVES RECOGNITION FOR PROGRAM COVER ENTRY
Delta Kappa Gamma members were invited to submit entries for the Founders' Day program cover, and Gamma Chapter President Dr. Liz Biglin entered a design for consideration.
The certificate above applauds her design entry for the 75th anniversary program cover.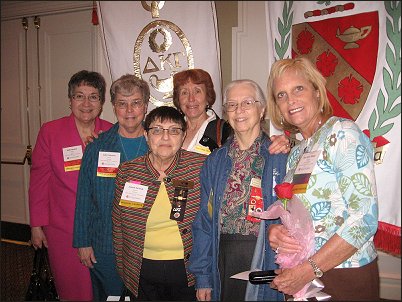 New Initiate Sue Anne Pfister (right) is welcomed into Gamma Chapter by fellow Gamma sisters (L - R) Willa Mullins, Judy Valentine, Joanne Katonak, Kathleen Hall, and Katherine Wheeler at the Alpha Delta State Convention on April 13, 2013. (Click photo to enlarge.)
NOVEMBER 20, 2013: JOY REYES FROM COLUMBUS LITERACY COUNCIL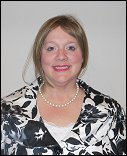 At our Saturday, April 20, 2013 Gamma meeting, Joy Reyes, Executive Director of the Columbus Literacy Council visited and spoke to our group about the work of the Council.
The Columbus Literacy Council is a volunteer-based organization dedicated to increasing the level of functional literacy of adults reading below an 8th grade level through teaching the English language skills of listening, speaking, reading, and writing.
Joy explained some of the challenges that the Council has faced through the years, including funding cuts that led the organization to reorganize and use volunteers to staff their programs. The results have been extremely positive, and the Council serves more than 3,000 students each year, making it the largest private provider of adult literacy services in Central Ohio.
The Council was founded by Church Women United in 1970 and was formally established as a non-profit educational corporation in 1975.
Below, Joy discusses why learning English is especially challenging for some of their students.
COLUMBUS LITERACY COUNCIL EXECUTIVE DIRECTOR JOY REYES

Visit the Columbus Literacy Council web site.
NOVEMBER 20, 2013: RAFFLE
On April 20, President Dr. Liz Biglin held a raffle of donated items, the proceeds from which will go to the Schools in Africa Project. The tickets sale total was matched by the Dorothy Scrivener Fund. Below are the lucky Gamma Sisters who held the winning tickets for each item.
You may enlarge the photos by clicking each one.
NOVEMBER 2, 2013 MEETING: "NUTS AND BOLTS"
Our November 2, 2013 meeting, entitled "Nuts & Bolts," featured the Decades of Delta Dazzlers, a program created by Linda Dolfi for our Founder's Day program.
Members formed Committee groups and worked on creating a report that was given orally to members but will need to be turned into International on February 1, 2014. All report forms are available online.
MARCH 2, 2013: "SCHOOLS IN AFRICA"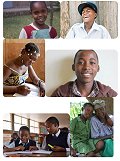 On Saturday, March 2, 2013, our speaker was Pat Cermak, 2nd Vice-President and Educational Excellence Chair, Alpha Delta State. She spoke about "Schools in Africa."

See Ms. Cermak's notes here.

Click the photo collage on the left to enlarge it.

FEBRUARY 9, 2013: WILLIAM BROWNING DISCUSSES SMART PLANNING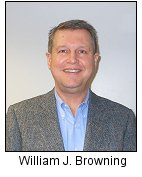 At our February 9, 2013 meeting, William Browning, of Browning, Meyer & Ball Co., LPA, visited us to discuss the importance of wise planning for our financial futures and long-term care if we become unable to care for ourselves.
Mr. Browning stressed making plans NOW, rather than once something happens that lessens our ability to make competent decisions. By making plans now, when we are less emotional and more capable, we are more likely to make smart decisions.
William J. Browning, CELA
300 West Wilson Bridge Road
Worthington OH 43085
Phone: 614-471-0085
Email William Browning
2012
DECEMBER 8, 2012: SHARING CHRISTMAS MEMORIES
On Saturday, December 8, Gamma Chapter gathered for our annual holiday meeting. Hostesses Michelle Koenig and Bev Fatig provided darling little boxes filled with holiday sweets and we playefd Christmas Carol Bingo!
Then it was time for members to share special Christmas memories. Below are videos of Linda Reuhrmund talking about a special Christmas tree from Dorothy Scrivener, and a video of Joanne Katonak telling us about her great-nephew, Dan Delk, who won a competition to participate in decorating the White House this year.
BELOW: Linda Ruehrmund
BELOW: Joanne Katonak
BELOW: Mary Ellen Angeletti
OCTOBER 8, 2012: OCTOBER MEETING AT OHIO SCHOOL FOR THE BLIND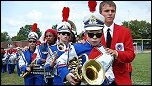 Our Saturday, October 8 meeting was an incredibly moving one. Our speaker, Carol Agler (Director of Music at the School for the Blind), shared about the Ohio School for the Blind Marching Band.
Kathy Havens shared our inspiring Thought for the Day, which was a poem written by her great-grandmother, who taught at the age of 16 in a one-room schoolhouse in the early 1900'. We also joined in a group chorus of "Happy Birthday" to Willa!
If you are interested in exploring video clips of the Ohio School for the Blind Marching Band, the links are below.
SEPTEMBER 12, 2012: LORI OVERMYER, MASTER GARDENER

For those of you who were not able to join us, we had a perfect day for a picnic yesterday. The weather was beautiful, and the picnic site at Scioto Park was picturesque! The guest speaker, Lori Overmyer, a Master Gardener, shared her expert knowledge and has given some of us an incentive to do more investigating about the Master Gardener Program.

Visit the OSU Master Gardener Volunteer Web site
MARCH 10, 2012 NICOLE GNEZDA: USING CREATIVITY WITH DIFFICULT STUDENTS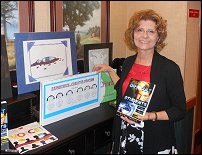 On March 10, 2012 Dr. Nicole Gnezda, an author, speaker, educator and creative consultant, visited Gamma Chapter to share thoughts and ideas of the best ways to teach difficult students.
Dr. Gnezda displayed samples of student artwork to demonstrate their abilities to express themselves through art, and discussed the teacher's role in helping individual students based on these expressions.
You can visit Dr. Gnezda's web site here.
Click the arrow below to view the video of Dr. Gnezda discussing the importance of listening to students.
FEBRUARY 11, 2012: JENNIFER SANDERS: EDUCATION IN OHIO PRISONS
On February 11, 2012, we met at Good Shepherd Lutheran Church and enjoyed a delicious brunch prepared by several of our own Gamma members. Linda Ruehrmund prepared a touching Memorial Service for our Gamma sister, Ruth Flowers, who opassed away recently. Thank you, Linda.

Our speaker, Jennifer Sanders, Deputy Warden of the Franklin Medical Center,spoke to our group about education in the Ohio prison system. She described the process by which inmates are given the opportunity to earn a diploma or degree and expand their knowledge while serving a prison term, to better prepare them for a productive life after their period of incarceration is over.
Below, Jennifer tells about one of her former students who gave her insight into why he had failed in school prior to being in her class.
Please click the arrow to begin playing the video.

Read about the Ohio Department of Rehabilitation and Corrections here.
JUNE 16, 2012: ARTIST LINDA LANGHORST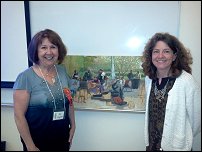 On June 16, Gamma Chapter welcomed local artist Linda Langhorst, who displayed and discussed her recent collection of oil paintings representing music and musicians.
Many of her paintings have been inspired by her visits to New Orleans, and they capture the relationship between the musicians, their music, and their environment. In the photo of the left, Gamma member Liz Biglin and Linda showcase one of Linda's more recent works, inspired by Jackson Square in New Orleans. Click photo to enlarge.
2011
DECEMBER 11, 2011: PIANO MUSIC BY THANE EVANS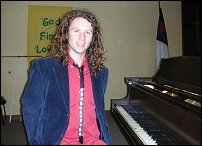 At our December 11 meeting at Ascension Lutheran Church, we all enjoyed the musical talents of Liz Biglin's nephew, Thane Evans. Thane has studied piano for most of his life, including his years he attended Ohio University.
Thane, who lives in Millersport, Ohio, entertained us with several beautiful and artistically rendered piano compositions, further enhancing our holiday spirits!

When we marveled that he had no sheet music with him, he said that the music is in his head. We could tell that it is also in his heart and soul, as he demonstrated by playing with expression and passion. Thane plans to record his piano music with one of his guitarist friends, and we hope to see his videos on YouTube soon!
NOVEMBER 6, 2011: HONOR FLIGHT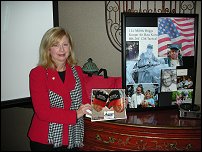 On November 6, Gamma Chapter met at the MCL Cafeteria at Kingsdale and enjoyed a program about Honor Flight, presented by Rene Delane.
Honor Flight is a non-profit organization that recognizes and celebrates World War II veterans by flying them to Washington DC to visit memorials dedicated to their improtant service - at no cost to them.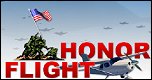 Rene explained the process of signing up and transporting these veterans to our nation's capital, and showed a video of several veterans who exjoyed this once-in-a-lifetime experience. As a volunteer with Honor Flight Columbus, Rene has seen how important this trip is to the wonderful heroes who fought to keep us safe.

Read more about Honor Flight here.
OCTOBER 2, 2011: TEHKU TEA HOUSE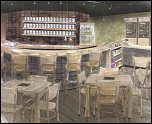 On October 2 we met at the Tehku Tea House in Dublin to sample and learn the origins of various kinds of teas, as well as learn about the traditional tea ceremony. Our hostess, owner Ingrrie Merriman, who was born in Indonesia, taught us a great deal about the significance of tea in her culture as we sipped a variety of blends and sampled her homemade scones. It was an educational and enjoyable evening at the Tehku Tea House!
Click each photo below to enlarge it, and then use the back button to return to the News page.

MAY 11, 2011: FOUNDERS DAY
The following Gamma Chapter members attended the 2011 Founders Day event on May 11, 2011. Click photo to enlarge it.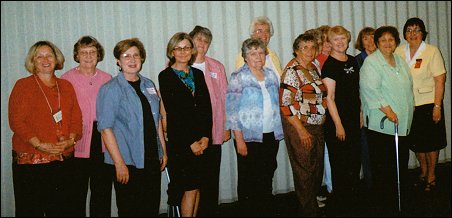 L-R: Linda Dolfi, Esther Panning, Dorene Henschen, Cathe Ostrowski, Joan Roettger, Mary Ann Wiedenheft, Linda Ruehrmund, Eileen Young, Judy Valentine, Beverly McPherson, Rosemary Conroy, Kathy thomas, Kathleen Hall, Willa Mullins (Not in photo, but in attendance: Joanne Katonak)
APRIL 9, 2011: INITIATION
Thank you to Linda Dolfi, who has provided these photos from the April 9, 2011 initiation ceremony. Please click each photo to enlarge it.
Rosemary Conroy, Dorene Henschen signing; Kathy Thomas begind table

Dorene Henschen lighting the candle

Rosemary Conroy, Dorene Henschen and Joan Roettger with roses

Rosemary Conroy, Dorene Henschen and Joan Roettger with Reba
Kanning and Willa Mullins

Rosemary Conroy, Dorene Henschen and Joan Roettger signing

Rosemary Conroy talking about her background

Dorene Henschen w/rose
MARCH 10, 2011: SALUTE TO THE IRISH!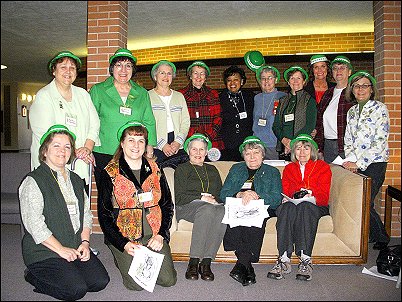 Thanks to President Willa Mullins for our festive Irish hats, the Gamma Sisters enjoyed
our irish-music-themed meeting with extra Irish spirit!
Please click the photo to enlarge it.

At our March 10 meeting at Christ United Methodist Church, Reba Kanning led us in a sing-along of Irish tunes, and demonstrated her considerable Riverdance skills! Click each link below to view the videos!
GAMMA MEMBERS SING DELTA KAPPA GAMMA SONG
Watch (and listen to!) the video below of the Gamma, Ohio chapter members singing the Delta Kappa Gamma song.
MEMBERSHIP

Do you have someone in mind as a new Gamma Chapter member? You can complete the Membership Form right here and have your potential member complete it and return it to the Membership Committe c/o Reba Kanning.