ANNOUNCEMENTS
BE SURE TO VISIT OUR MEETING ARCHIVES PAGE!


View photos and videos from previous Gamma Chapter meetings on our NEW "Meeting Archives" page! Photos and video from the past 12 months will be displayed on this Announcements/News page.
NOTE: Photos and videos that appear on this page are the original work of Ellen Clark or other Gamma Chapter members, and have been posted with Gamma members' permission. No copyrighted images have been used without express written permission from their owners/creators.
2022
SATURDAY, APRIL 30, 2022: MY VERY OWN BLANKET PROJECT
Due to limitations on our in-person meetings due to Covid-19, we decided to complete our individual blankets at home and bring them to the April 30, 2022 Gamma Meeting so that we can then donate them to the My Very Own Blanket organization.
Gamma Chapter has participated in this group effort for the past couple of years, and we are proud to have provided children in need with these soft, warm bundles of comfort.
Thank you to each Gamma member who participated in the project this year! Pictured below are many of the blankets we made for area children this year. Please click photo to enlarge it.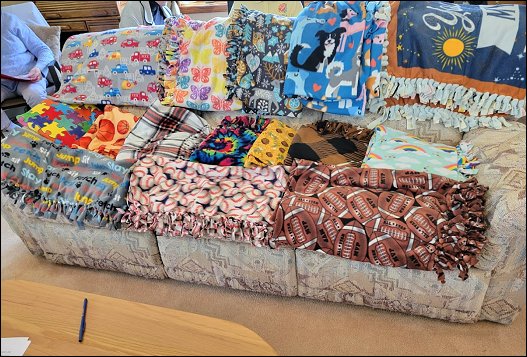 SATURDAY, APRIL 30, 2022: MARC & MARY SCHROEDER: BEES

On Saturday, April 30, 2022, we gathered at the home of Michele and Tim Koenig to welcome Marc and Mary Schroeder, who presented a very informative and interesting program about bees and beekeeping.
Marc and Mary have kept bees for several years, and they discussed their experiences and taught us about the importance of bees in our ecological community.
Their focus was on the role of bees as critical creatures in the maintenance of a balanced environment, as well as the ways in which responsible people can ensure that these hard little workers thrive.
Below is a video of Marc and Mary explaining their role as beekeepers, and sharing the important checkpoints they use to ensure that their bees are thriving.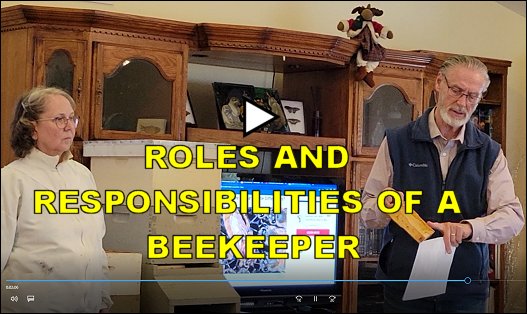 Marc and Mary were excited by plans to pick up a swarm, but uh oh! At the last minute, the bees had a change of heart! See video below!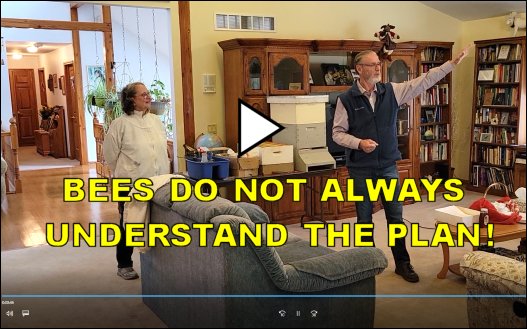 In this video, they discuss the need for a variety of plant life for bees to flourish.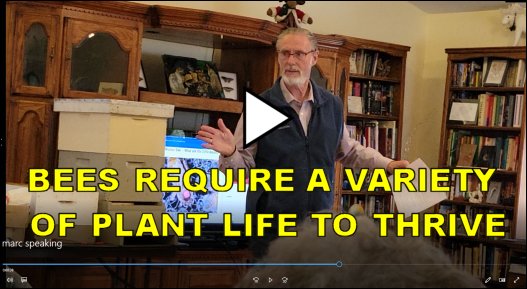 Below are photos of some of Marc and Mary's beekeeping equipment, including the hood that they wear when working with their bees.
Please click each image to enlarge it.
| | | |
| --- | --- | --- |
| | | |
| | | |
SATURDAY, MARCH 12, 2022: MICHELE MANGIONE: "FOOT REFLEXES"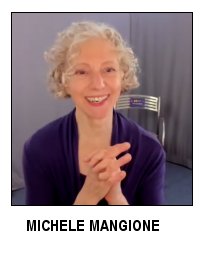 On Satrurday, March 12, 2022, we met viz Zoom to work with Michele Mangione, PhD, who instructed us in methods of stretching, exercising, and foot replexology.
Michele used interesting imagery, such as pretending that we were cats, waking up and stretching, and then pouncing on prey. She also talked about classes she holds to benefit the mind/body connection.
Michele's company, Ageless Ways, targets anyone who is participating in the aging process!
These chapter members attended the March 12 meeting.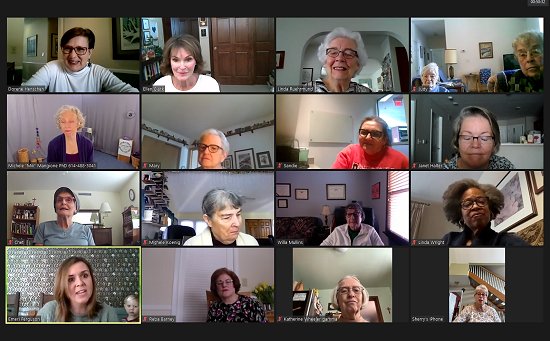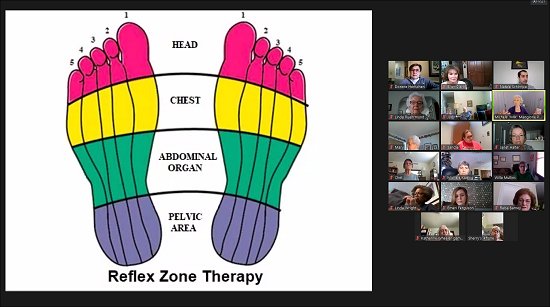 JANUARY 12, 2022: E.J. THOMAS: HABITAT FOR HUMANITY MID-OHIO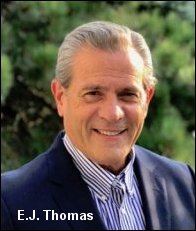 On January 12, 2022, we were treated to a discussion with EJ Thomas, the CEO of Habitat for Humanity Mid-Ohio via Zoom meeting.
Mr. Thomas informed us of the many ways in which Habitat for Humanity helps families acquire their first homes, and he answered several questions from our chapter members regarding the operation and the people who benefit from the group's work.
EJ Thomas is a former member of the Ohio House of Representatives, serving from 1984 to 1999. He concluded his tenure as State Representative for the 27th District in north Columbus, having been elected a total of eight terms.
The chapter members met online via Zoom to listen to E.J. Thomas, who also answered our questions about habitat for Humanity Mid-Ohio.
2021
MIDSET RESET WITH NEMA SALEEM-GREEN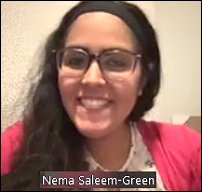 During our November 8, 2021 Zoom meeting,our speaker, Nema Saleem-Green led a presentation called "Mindset Reset." She guided us in finding activities that we enjoy doing, and that assist us in truly taking care of ourselves.
Her presentation included many practical tips for self-care. She encouraged the chapter memebrs to participate by offering their own tips for self-care, and the activities that they find rewarding, as well as goals they have for self-care.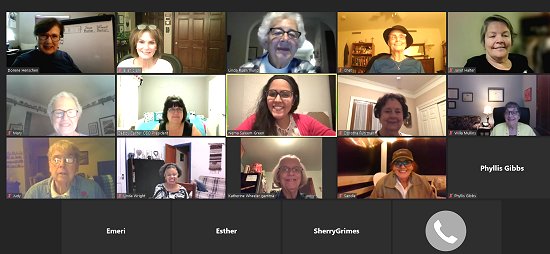 Above is a screenshot of Gamma members who were present for the November meeting. Please click the photo to enlarge it.
OCTOBER 2, 2021: INDUCTION OF NEW MEMBER EMERI FERGUSON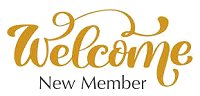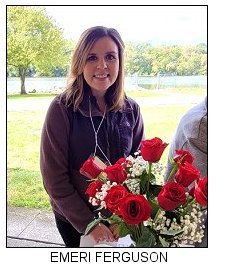 We are pleased and excited to welcome a new member to our Gamma Chapter!
Emeri Ferguson, a graduate of Ashland University, is a first grade learning guide and reading support specialist at Wellington School in Upper Arlington.
Emeri became aware of our Grants-in-Aid program and attended a Zoom meeting earlier this year. We are delighted that she chose to join Gamma Chapter!
When Emeri is not teaching, she is very busy at home with her husband and three young sons.
Welcome to Gamma Chapter, Emeri Ferguson!
OCTOBER 2, 2021: NECROLOGY CEREMONY
During our October 2, 2021 we also honored three of our members who have passed away, and those in addendance offered memories and stories about them. The members we honored were: Carol Diane Kiefer, who was initiated in 1982 and who died in 2019; Miriam Hinton, who was initiated in 1957 and who passed in 2020; and Sara Herfel, who had been a member since 1988 and who died in 2020. Each woman was a valued member of Gamma Chapter, and we will remember and miss them.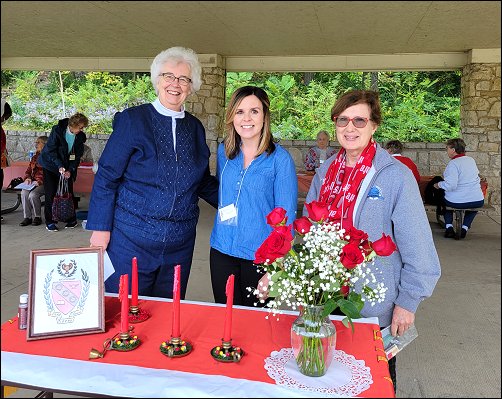 Linda Ruehrmund, new member Emri Ferguson, and Dorene Henschen
2020
IMPORTANT INFORMATION ABOUT THE FEBRUARY 2021 MEETING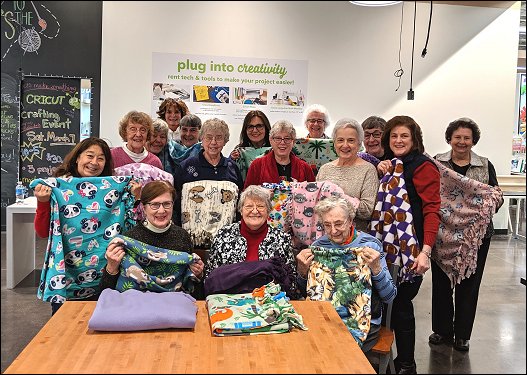 Remember last winter when we met at JoAnn Fabrics and made blankets for My Very Own Blanket? (See photos from the February, 2020 meeting here)

We will be making blankets again this year, but due to Covid-19 recommendation and guidelines, we'll each make our blanket(s) at home and then share them during our Saturday, February 6, 2021 ZOOM meeting, which will begin at 9:30 am.
You can purchase your fleece fabric at any JoAnn location (find a store near you here) and then make your blanket(s) using these directions:

Read and print the directions for making My Very Own Blanket fleece blanket.
If you prefer not to go into the store, you can purchase a blanket kit online and pick it up at the Westerville store, from their outside donation bin. (Shipping is available ONLY to locations 30+ miles from the Westerville store.)

Order a blanket kit online.
Visit the My Very Own Blanket website here to read about how these soft fleece blankets enrich the lives of foster childrenby giving them a feeling of comfort and security.
SEPTEMBER 15, 2020: LEADERSHIP AND GIFTED EDUCATION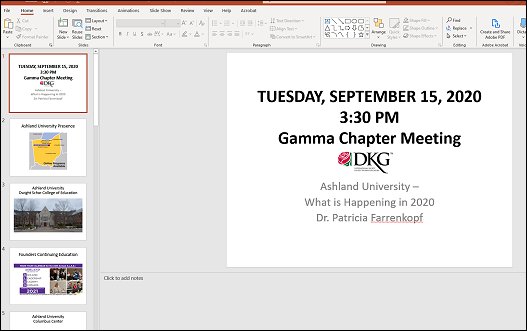 On Thursday, September 25, 2020, Gamma members gathered online in a Zoom meeting, allowing us to be "together" while safely staying apart.
Pat Farrenkopf gave a presentation, and here are her words to the chapter members:
"My name is Patricia Farrenkopf and I love my job. Even after 47 years of serving in education as a teacher and administrator, I wake up in the morning looking forward to the day - even in a Pandemic.
After over 30 years of adjunct status with Ashland University, I became a professional instructor for the College of Education, Department of Doctoral Studies and Advanced Programs. Ashland University has eight satellite locations in Ohio and Michigan. Main campus is in Ashland, Ohio.
I have an office at main campus at the Dwight Schar College of Education and also at the Columbus satellite campus. With the Pandemic, I have been teaching online courses in Educational Leadership, Gifted Curriculum and Program Development, and serving on dissertation committees.
I am currently conducting follow up research on my dissertation topic of Gifted Identity Development. I have found all 24 of the fifth grade students who were in my original study who are now seniors in high school and freshmen in college.
I have served co director of the Martin W. Essex School for the Gifted. My Ashland University colleague and I wrote a High Impact grant to move this summer experience to Ashland University from Otterbein University.
Finally, I am the owner of ProGift-ify TM. I have written books and educational tools to support parents and teachers as they support their gifted learners.
As C.S. Lewis once said, 'You are never too old to set another goal or to dream a new dream.'"

View Pat's original Powerpoint presentation, if your computer has Powerpoint installed.

View Pat's presentation as a PDF.
FEBRUARY 8, 2020: MAKING AND DONATING FLEECE BLANKETS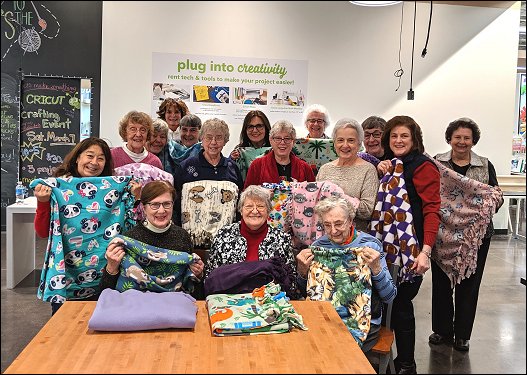 See video slideshow below for more photos.
On Saturday, February 8, Gamma Chapter members gathered at JoAnn Fabrics at Polaris to participate in a project to help MyVeryOwnBlanket.org, a non-profit organization who provides handmade blankets for children who are in the foster care system.
My Very Own Blanket was started in 1999 by Jessica Rudolph, and has been dedicated to warming the heart of every child in the foster care system with a blanket that gives them a feeling of comfort, security, and most of all, a SMILE for 20 years.
Gamma Chapter members each worked on cutting "fringe" along opposite edges of a piece of colorful fleece and then tying each strip of fabric in a single knot to create a pretty edge that will be durable. We discovered that working together allowed us to produce more blankets than we thought possible. At the end of our meeting, we had created more than 20 new blankets to donate to foster children.
A special part of the blanket is a label that is sewn on one side. It allows the person who created the blanket to write his or her own name and also write a short message of hope or comfort for the child who receives the gift. As we all know from our own childhood experiences, a soft, warm blanket can be much more than just a piece of fabric to keep us from being cold; it is also a source of comfort, security, and in some cases, love.
In 2019, My Very Own Blanket set and met the goal of providing 20,000 blankets to children who need them! Congratulations to everyone who worked so hard to achieve such a lofty objective! Their goal for 2020 is to produce and donate 25,000 blankets.
2019
NOVEMBER 16 , 2019: ROYAL FAMILY KIDS CAMP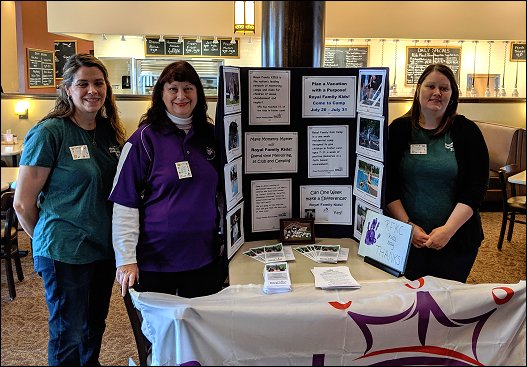 Gamma Chapter welcomed representatives from Royal Family Kids Camp on Saturday, November 16 at the MCL Cafeteria in Upper Arlington. Pictured above are Krista May, Jessica Dale, and Jessica Slone.
Royal Family Kids Camp was founded in 2002 and creates life-changing moments for children in Franklin County by reversing the effects of child abuse and neglect.
Serving children from ages 7-11 years, the camp offers swimming, sports and games, woodworking, hiking, a birthday party for all campers, and more.
RFK of Franklin County is a key partner with Franklin County Children Services.
Above: Jessica Dale and Krista May discuss the goals of Royal Family Kids Camp.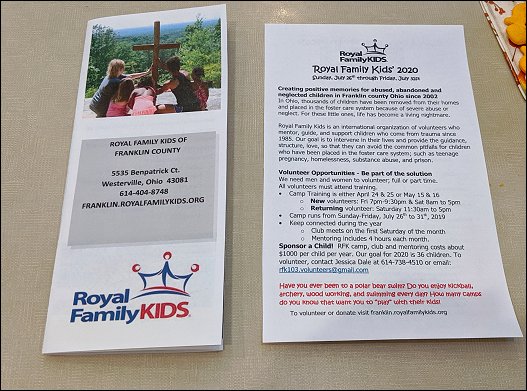 SEPTEMBER 14, 2019: LEAP OF FAITH
On Saturday, September 14, 2019, Gamma Chapter members visited the Leap of Faith Dance Company to learn about their work and enjoy a performance by three of the dancers.
Leap of Faith Dance Company was established by Dave and Kelley Haney in 2003. Their vision was to establish a family ministry to deliver on their Mission Statement: "Our goal is to use the talents we have been blessed with to help children have fun, learn to dance, and understand valuable life lessons through scripture and Christian music…."
Leap of Faith offers instruction in contemporary, ballet/pointe, tap/stomp, jazz, hip hop and breaking for all levels from beginner through master.
Below are photos submitted to us by Leap of Faith, documenting our morning with them. We thank Taiylor Preston for the photographs.
JUNE 11, 2019 MEETING: URBAN ARTS SPACE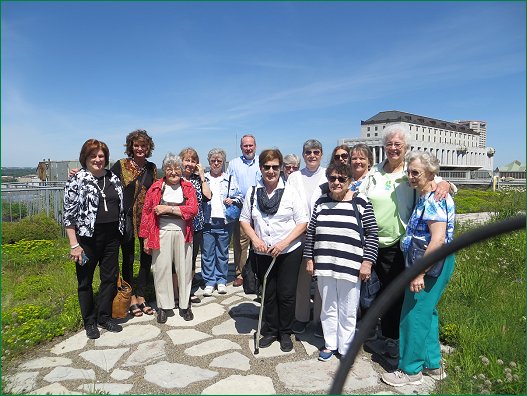 On June 11, 2019, we met at Urban Arts Space located at 50 W. Town Street.
Robert Turrin and Lizzie Howald were our tour guides of the gallery, garden rooftop, and the building's history and renovation to its environmental Gold Status.
On exhibit in the gallery were artworks of Ohio State emeritus faculty, H. Ike Okafor-Newsum, Robert J. Stull, and Pheoris West. The exhibit was entitled "Start At Home: Influence, Commitment, Integrity."
You can also visit the ir Facebook page here.
The slideshow below features our chapter enjoying the interaction with our guides and the beauty of this special gallery.
GAMMA MEMBERS ATTEND CONVENTION - APRIL 2019
The Alpha Delta State Convention was held from Aprl 5 -7, 2019 at the Columbus Polaris Hilton. Several Gamma Chapter members attended.

Please click each photo to enlarge it.

L-R: Dorene Henschen, Katherine Wheeler, Linda Reuhrmund, Michele Koenig, Janet Halter, Joanne Katonak, Willa Mullins, Judy Valentine, Linda Wright
MARCH 2, 2019: FABRIC ARTWORK WITH DKG LOGO
On Saturday, March 2, 2019, we met at Michele Koenig's home for a business meeting, followed by an art class, during which Michele taught us how to create unique Delta Kappa Gamma logo garments using fabric markers, stamps, fabric paint, and stencils. Chapter members created shirts, scarves, bags, and other items with the DKG rose on them. Below you can see our Gamma Chapter members creating their masterpieces.
FEBRUARY 2: INITIATION OF DIANE HENDRICKSON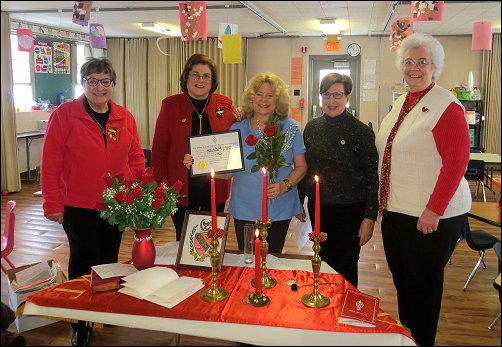 Willa Mullins, Reba Barney, Diane Hendrickson, Dorene Henschen, Linda Ruehrmund
Gamma Chapter welcomes new member Diane Hendrickson!
FEBRUARY 2: GOD'S HYGIENE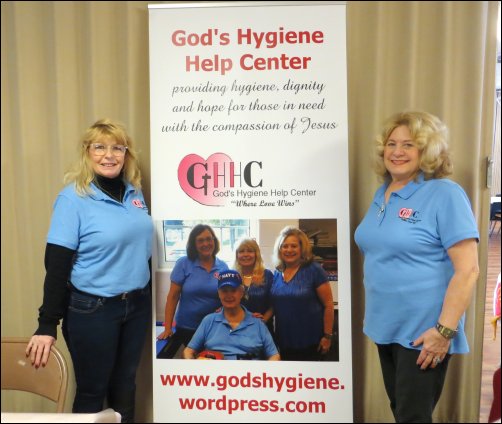 Tammy Jewell (left) and Diane Hendrickson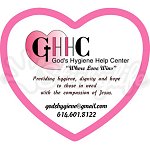 On February 2, 2019, our new initiate, Diane Hendrickson, brought her guest, Tammy Jewell, to discuss God's Hygiene Help Center, which is a local non-profit organization dedicated to providing hygiene, dignity, and hope to those in need with the compassion of Jesus. Tammy's compelling life story inspired and educated our chapter members, and gave us an insight into the needs of many individuals in our area who are in need of the most basic of personal supplies.
Through Upper Arlington Lutheran Church and Diane's help, Tammy established God's Hygiene as a nonprofit organization. She collects and distributes all kinds of personal care products to those who simply cannot afford to buy them.
God's Hygiene is located at 3016 Howey Road, Columbus OH 43224, and Tammy helps people by appointment. God's Hygiene Help Center is a 501 (c) (3) nonprofit organization, and your donations are tax deductible.

Visit God's Hygiene's Website

Visit God's Hygiene's Facebook page
GENERAL INFORMATION FOR MEMBERS
GAMMA MEMBERS SING DELTA KAPPA GAMMA SONG
Watch (and listen to!) the video below of the Gamma, Ohio chapter members singing the Delta Kappa Gamma song.
SCHOLARSHIP APPLICATION AND REIMBURSEMENT FORM

Have you taken a class or workshop lately and want to apply for scholarship reimbursement?
You can download and print the guidelines and application form from our website right here and submit it to Judy Valentine.

Print the Scholarship Information Sheet

Print the Scholarship Reimbursement Form
GRANTS-IN-AID APPPLICATION

View and Print the Cover Letter / Application here.
PLEASE NOTE: Forms are also listed on the Links / Forms page.
EXPENSE / REIMBURSEMENT FORM
Joan Roettger has prepared an Expenses and Reimbursement Form.

View and Print the Expenses and Reimbursement Form here.
PLEASE NOTE: Forms are also listed on the Links / Forms page.
READ "THE VOICE OF ALPHA DELTA STATE" RIGHT HERE!
Now you can read the Delta Kappa Gamma "The Voice of Alpha Delta State" online.

Read current and past issues of "The Voice."
MEMBERSHIP

Do you have someone in mind as a new Gamma Chapter member? You can complete the Membership Form right here and have your potential member complete it and return it to the Membership Committe c/o Willa Mullins.