ANNOUNCEMENTS
BE SURE TO VISIT OUR MEETING ARCHIVES PAGE!


View photos and videos from previous Gamma Chapter meetings on our NEW "Meeting Archives" page! Photos and video from the past 12 months will be displayed on this Announcements/News page.
NOTE: Photos and videos that appear on this page are the original work of Ellen Clark or other Gamma Chapter members, and have been posted with Gamma members' permission. No copyrighted images have been used without express written permission from their owners/creators.
2023
SUNDAY, SEPTEMBER 17, 2023
On Sunday, September 17, 2023, Gamma Chapter members visited the National Veterans' Memorial located on Broad Street in downtown Columbus.
From the NationalVMM.com website:
"There's only one Museum in America that honors ALL our Veterans – from all branches of service, and from all eras of our nation's proud history of military service, both peacetime and wartime. The National Veterans Memorial and Museum is a powerful and personal experience designed to give a voice to every man and woman who answered the call for our country.
This is neither a war memorial nor a military museum. The National Veterans Memorial and Museum takes visitors on a narrative journey telling individual stories and shared experiences of Veterans throughout history. Paying tribute to the sacrifices of servicemen and women and their families. History is presented in a dynamic, participatory experience with photos, letters and personal effects, multi-media presentations, and interactive exhibits. Together, these elements link our national story to the larger context of world events since our country's earliest days, and demonstrate the importance of individuals in shaping our history.
This one-of-a-kind cultural institution stands as a place of inspiration for all visitors to come together as one people with a common bond and a shared pride in our Veterans."

| | |
| --- | --- |
| | |
| | |
| | |
SATURDAY, JUNE 10, 2023
At the June meeting, the chapter had a business meeting along with the annual birthday celebration, including a potluck and the opportunity to enjoy the friendships of our sisterhood.
MONDAY, MARCH 27, 2023: COLUMBUS METROPARKS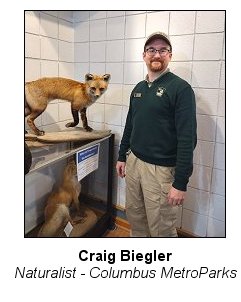 On Monday, March 27, Gamma Chapter members met at Blendon Woods Metro Park and enjoyed an informative talk by Craig Biegler, who is Naturalist with the Columbus MetroParks.

The Columbus MetroParks is the largest park system in Ohio, and there are plans for more expansion. Craig's powerpoint presentation covered how the parks are operated, the resources that are needed, and the opportunities the parks provide for visitors.
Among the slated improvements, the Nature Centers at Blacklick Woods and Blendon Woods will be renovated. Blendon Woods park is known as the park for birding, and many birds were seen and heard during our meeting.
Feminine hygiene items were brought to the meeting to give to a Grant-in-Aid applicant for her students in need.
TUESDAY, FEBRUARY 7, 2023: STAR HOUSE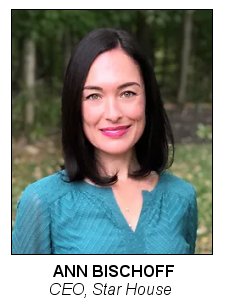 Ann Bischoff, the CEO of Star House here in Columbus, Ohio, was our guest speaker for the February 7, 2023 meeting of Gamma Chapter.
Star House's website describes the service as operating Central Ohio's only drop-in center for youth, ages 14-24, who are experiencing homelessness. At their 24/7/365 drop-in center, youth are provided access to food, clothing, hygiene items, laundry facilities, showers and a safe place to be. Beyond basic needs, our clinical team provides therapy and case management, and partner agencies provide on-site and community-based access to stabilizing resources, such as housing, transportation, health care, employment, education, addiction services, legal aid, government benefits, ID cards and more.
In addition, Star House provides social services at Carol Steward Village (CSV) — a 62-unit neighborhood for young adults, ages 18-24, with on-site programs and services.

Star House opened in October 2006 as part of a federally-funded research project of The Ohio State University (OSU), designed to uncover best practices for meeting the unique needs of street-living 14- to 24-year-olds. As the first drop-in center for youth experiencing homelessness in Central Ohio, our center was the bridge between the streets and more traditional, intensive services. In our first year, we served 250 individual youth at our drop-in center, which was located on OSU campus.
In 2017, Star House became an independent social service agency in order to more nimbly address the needs of youth, engage partners and draw upon a broader range of financial support, though we continue to partner with OSU on best practice research.
MEETING OUR GRANT RECIPIENTS
| | |
| --- | --- |
| | |
| Paige Biglin | Samantha Hurdzan |
During our February 7, 2023 meeting, we were delighted to meet, via Zoom, two of our Gamma Chapter grant recipients.
Paige Biglin is a speech pathologist who works with 8th grade students. She has used her funds to purchase materials to capture their interest and provide reinforcers.
Samantha Hurdzan teaches 2nd grade in Columbus City Schools and used her grant money to purchase book bins for her classroom, and to continue to encourage reading.
Each teacher will now be entitled to another grant from Gamma Chapter.
TUESDAY, JANUARY 10, 2023: ROX: RULING OUR EXPERIENCES
On Tuesday, January 10, 2023, our chapter held a Zoom meeting with Nancy Willis to learn about ROX: Ruling Our Experiences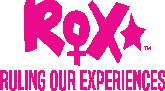 DKG has partnered with ROX for many years, and will cover the cost of facilitator training. Facilitators don't need to be a member of DKG, but ROX encourages them to be so.
The ROX mission is "to create generations of confident girls who are in control of their own relations, experiences, decisions and futures." ROX is an evidence-based 20 week small-group program for 5th – 12th grade girls, and is implemented in schools strictly by ROX -trained facilitators.
Overarching skills taught through the program are assertiveness, leadership opportunities, and how to respond to hard challenges. ROX exists in 24 U.S. states, and continues to expand.
2022
WEDNESDAY, NOVEMBER 9, 2022: TAI CHI
View video above.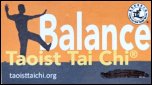 On Wednesday, November 9, 2022, Gamma Chapter members met at the Kingsdale MCL Cafeteria for instruction in Tai Chi, led by Sue Phillips.
Tai chi is often described as "meditation in motion," and there is growing evidence that this mind-body practice, which originated in China as a martial art, has value in treating or preventing many health problems.
In this low-impact, slow-motion exercise, you go without pausing through a series of motions named for animal actions — for example, "white crane spreads its wings" — or martial arts moves, such as "box both ears." As you move, you breathe deeply and naturally, focusing your attention — as in some kinds of meditation — on your bodily sensations. Tai chi differs from other types of exercise in several respects. The movements are usually circular and never forced, the muscles are relaxed rather than tensed, the joints are not fully extended or bent, and connective tissues are not stretched. Tai chi can be easily adapted for anyone, from the most fit to people confined to wheelchairs or recovering from surgery.
TUESDAY, OCTOBER 4, 2022: PAX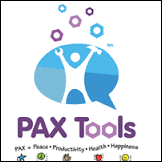 Gamma Chapter members gathered on Tuesday, October 4 to learn about PAX from speakers Nakeia Hudson and Beth Cumming, from Nationwide Children's Hospital.
PAX Tools is a collection of trauma-informed, evidence-based behavioral strategies for families and communities to promote the development of self-regulation of children in their lives. Caregivers who participate in these workshops receive materials they need to effectively use PAX Tools with youth.
You can find out more about PAX here.
SATURDAY, SEPTEMBER 17, 2022: MASTER GARDENER SUSIE MAYNARD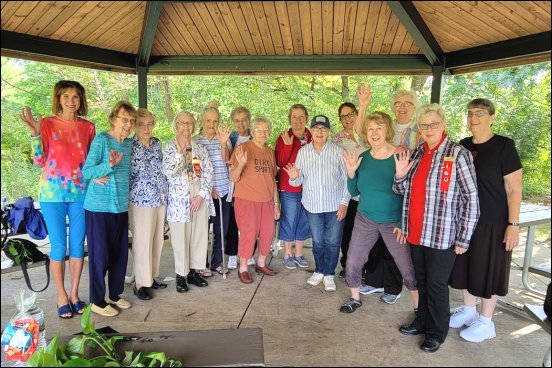 Chapter members waving "HI" to our Gamma sisters who could not attend the meeting.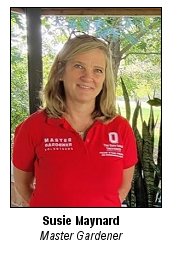 On Saturday, September 17, 2022, we met at Huber Village Park for a lovely morning of horticulture instruction from Master Gardener Susie Maynard, who passed along a great deal of knowledge and tips about indoor gardening.
We were blessed with perfect weather and a beautiful setting for our meeting, and Susie brought along several varieties of plants with her, so that each of us could take some home with us and try out our own green thumbs at home.
We took this group photo to send to some of our chapter members who were unable to attend our meeting.
6-14-22: MARGO LONG: 4-H SPARK EXPO & PATHWAYS TO THE FUTURE
EO, Star HouseMargo Long, 4-H Workforce Development and Pathways Program Manager, shared information about a valuable youth program that is available to 4-H members.
The Ohio 4-H Pathways to the Future approach enables youth to explore potential careers and develop a better understanding of the possible pathways to achieve their goals, whether through an apprenticeship, industry certification, the military, or higher education."
This program is open to all youth, and begins upon their enrollment in a 4-H program at the beginning of their eighth grade year.
TUESDAY, JUNE 14, 2022: A BUSY, PRODUCTIVE MEETING!
We gathered outdoors at Huber Village Park Shelter House for our June, 2022 Gamma Chapter meeting. Despite the high temperatures, the shelter house was breezy and comfortable, and in anticipation of the 4th of July, hostesses Janet Halter and Cathy Jones set the tables with red, white and blue patriotic-themed decorations. Beautiful flowers made the entire morning an occasion to be remembered.
It was a busy meeting, with much information to be shared. In addition to listening to a program presented by Margo Long, who represents 4-H, we also enjoyed a visit from one of our grant recipients, Rupa Narayanan. We then recognized our 50-year and 25-year members and installed our new slate of officers for the 2022-2024 term.
Please click photos to enlarge
6-14-22: MARGO LONG: 4-H SPARK EXPO & PATHWAYS TO THE FUTURE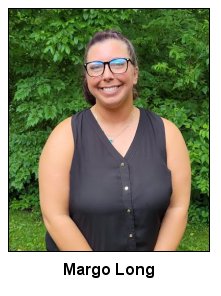 Margo Long, 4-H Workforce Development and Pathways Program Manager, shared information about a valuable youth program that is available to 4-H members.
The Ohio 4-H Pathways to the Future approach enables youth to explore potential careers and develop a better understanding of the possible pathways to achieve their goals, whether through an apprenticeship, industry certification, the military, or higher education."
This program is open to all youth, and begins upon their enrollment in a 4-H program at the beginning of their eighth grade year.
6-14- 2022: GRANT RECIPIENT RUPA NARAYANAN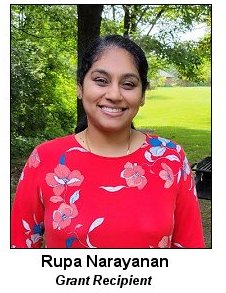 Gamma Chapter awarded a $100 grant to Columbus Public Schools teacher Rupa Narayanan, and she visited us on June 14 to thank us, and to discuss how she used the funds to enhance a middle school program that she has developed using Rubik's Cubes.

Several of Rupa's middle school students have participated in (and some of them have won) competitions that showcase their puzzle-solving skills. Rupa used the Gamma grant money to invest in additional Rubik's Cubes for her students.
Rupa works with students at Hilltonia Middle School, Medina Middle School, and World Languages Middle School in Columbus.
6-14-22: INSTALLATION OF OFFICERS
We are very grateful to all the officers who served the chapter during the past two years. Linda Ruehrmund and Dorene Henschen were excellent co-presidents, and everyone who held an office did a wonderful job!
Thank you for the time, effort, and personal commitment that you offer to Gamma (Ohio) Chapter and to Delta Kappa Gamma International.
NEWLY ELECTED OFFICERS FOR 2022-2024
GAMMA CHAPTER, OHIO

Co-Presidents
Michele Koenig
Judy Valentine
1st Vice-President
Sandie Trask-Tyler
Co-Recording Secretaries
Elizabeth Biglin
Mary Cardinal
Treasurer
Dorene Henschen
Parliamentarian
Katherine Wheeler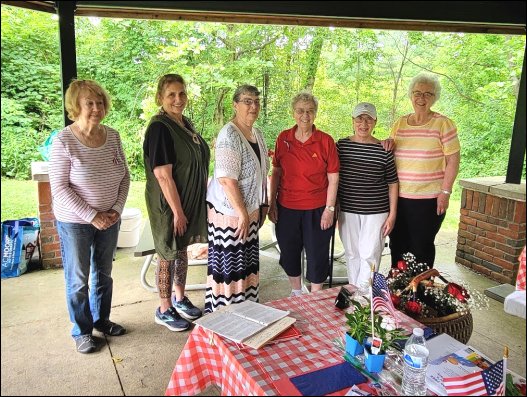 L-R: Elizabeth Biglin, Sandie Trask-Tyler, Michele Koenig, Judy Valentine,
Dorene Henschen, and Linda Ruehrmund
Not pictured: Mary Cardinal
6-14-22: THANKING THE OUTGOING OFFICERS / VOLUNTEERS
We also recognized and thanked our outgoing officers/volunteers for their work during this past term.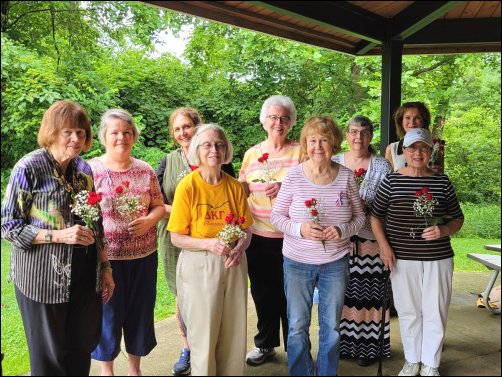 L-R: Carolyn Bordelon, Janet Halter, Sandie Trask-Tyler, Katherine Wheeler,
Linda Ruehrmund, Elizabeth Biglin, Michele Koenig, Ellen Clark, Dorene Henschen
6-14-22: HONORING OUR LONGTIME GAMMA CHAPTER MEMBERS
At our June 14 meeting, we recognized our Gamma members who have been with our chapter for 25 years, and for 50 years or longer.
50+ YEARS
Judy Valentine and Katherine Wheeler have been members of Gamma Chapter for 50 years or longer. We appreciate all they have done for the chapter. Each has served in an officer position several times during their membership period. THANK YOU, Judy and Katherine, for all you have done, and for all you continue to do to make our chapter so vibrant, organized, and productive!
25+ YEARS
Martha Poland (25 years) and Michele Koenig (27 years) were recognized for membership in Gamma Chapter for between 25 and 50 years. We thank them for their valued contributions to our organization.
50+ YEARS OF MEMBERSHIP IN GAMMA CHAPTER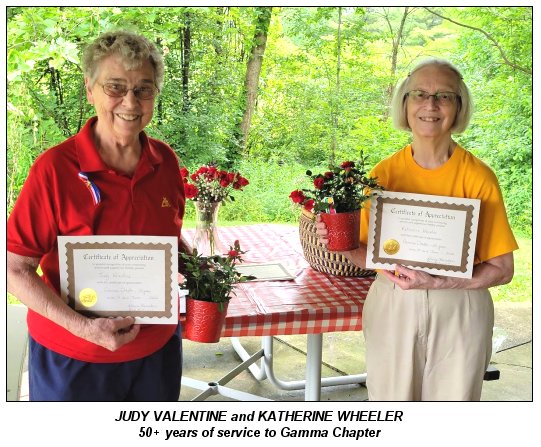 25+ YEARS OF MEMBERSHIP IN GAMMA CHAPTER
SATURDAY, APRIL 30, 2022: MY VERY OWN BLANKET PROJECT
Due to limitations on our in-person meetings due to Covid-19, we decided to complete our individual blankets at home and bring them to the April 30, 2022 Gamma Meeting so that we can then donate them to the My Very Own Blanket organization.
Gamma Chapter has participated in this group effort for the past couple of years, and we are proud to have provided children in need with these soft, warm bundles of comfort.
Thank you to each Gamma member who participated in the project this year! Pictured below are many of the blankets we made for area children this year. Please click photo to enlarge it.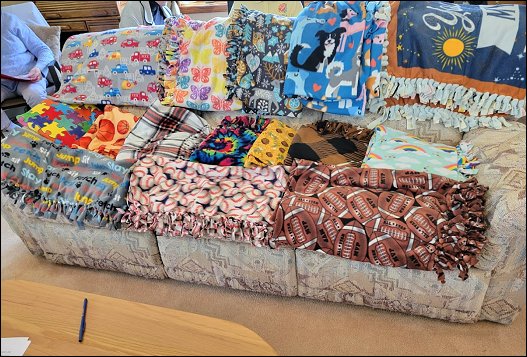 SATURDAY, APRIL 30, 2022: MARC & MARY SCHROEDER: BEES

On Saturday, April 30, 2022, we gathered at the home of Michele and Tim Koenig to welcome Marc and Mary Schroeder, who presented a very informative and interesting program about bees and beekeeping.
Marc and Mary have kept bees for several years, and they discussed their experiences and taught us about the importance of bees in our ecological community.
Their focus was on the role of bees as critical creatures in the maintenance of a balanced environment, as well as the ways in which responsible people can ensure that these hard little workers thrive.
Below is a video of Marc and Mary explaining their role as beekeepers, and sharing the important checkpoints they use to ensure that their bees are thriving.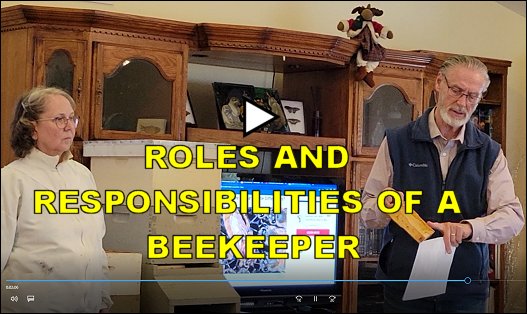 Marc and Mary were excited by plans to pick up a swarm, but uh oh! At the last minute, the bees had a change of heart! See video below!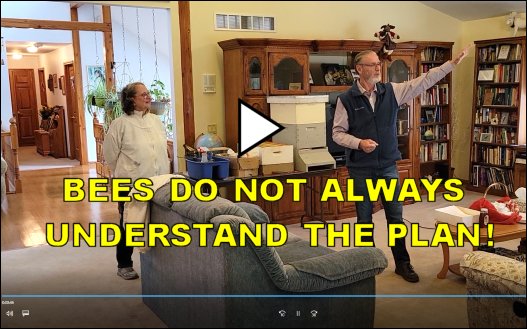 In this video, they discuss the need for a variety of plant life for bees to flourish.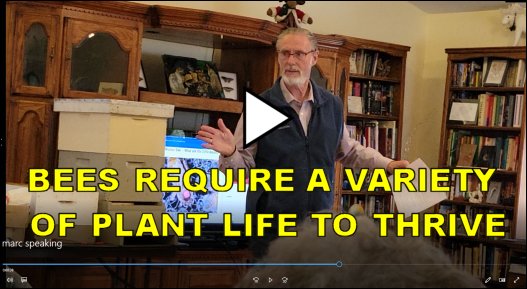 Below are photos of some of Marc and Mary's beekeeping equipment, including the hood that they wear when working with their bees.
Please click each image to enlarge it.
| | | |
| --- | --- | --- |
| | | |
| | | |
SATURDAY, MARCH 12, 2022: MICHELE MANGIONE: "FOOT REFLEXES"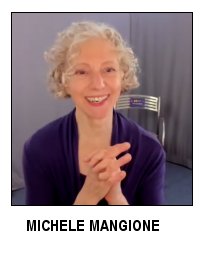 On Satrurday, March 12, 2022, we met viz Zoom to work with Michele Mangione, PhD, who instructed us in methods of stretching, exercising, and foot replexology.
Michele used interesting imagery, such as pretending that we were cats, waking up and stretching, and then pouncing on prey. She also talked about classes she holds to benefit the mind/body connection.
Michele's company, Ageless Ways, targets anyone who is participating in the aging process!
These chapter members attended the March 12 meeting.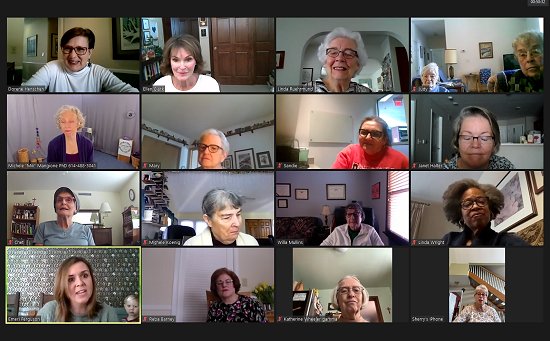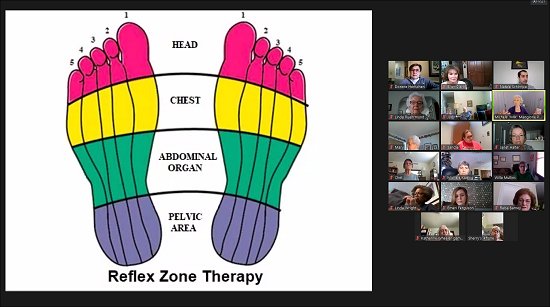 JANUARY 12, 2022: E.J. THOMAS: HABITAT FOR HUMANITY MID-OHIO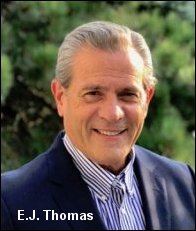 On January 12, 2022, we were treated to a discussion with EJ Thomas, the CEO of Habitat for Humanity Mid-Ohio via Zoom meeting.
Mr. Thomas informed us of the many ways in which Habitat for Humanity helps families acquire their first homes, and he answered several questions from our chapter members regarding the operation and the people who benefit from the group's work.
EJ Thomas is a former member of the Ohio House of Representatives, serving from 1984 to 1999. He concluded his tenure as State Representative for the 27th District in north Columbus, having been elected a total of eight terms.
The chapter members met online via Zoom to listen to E.J. Thomas, who also answered our questions about habitat for Humanity Mid-Ohio.
2021
MIDSET RESET WITH NEMA SALEEM-GREEN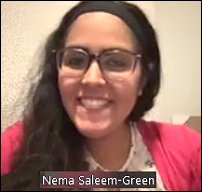 During our November 8, 2021 Zoom meeting,our speaker, Nema Saleem-Green led a presentation called "Mindset Reset." She guided us in finding activities that we enjoy doing, and that assist us in truly taking care of ourselves.
Her presentation included many practical tips for self-care. She encouraged the chapter memebrs to participate by offering their own tips for self-care, and the activities that they find rewarding, as well as goals they have for self-care.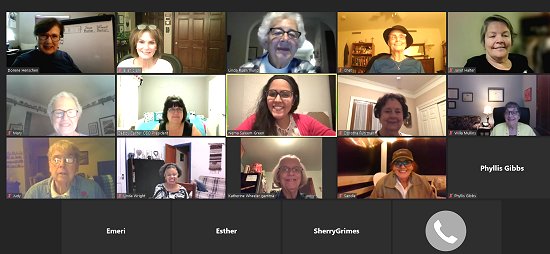 Above is a screenshot of Gamma members who were present for the November meeting. Please click the photo to enlarge it.
OCTOBER 2, 2021: INDUCTION OF NEW MEMBER EMERI FERGUSON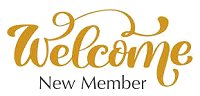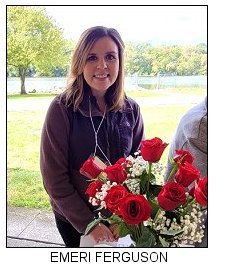 We are pleased and excited to welcome a new member to our Gamma Chapter!
Emeri Ferguson, a graduate of Ashland University, is a first grade learning guide and reading support specialist at Wellington School in Upper Arlington.
Emeri became aware of our Grants-in-Aid program and attended a Zoom meeting earlier this year. We are delighted that she chose to join Gamma Chapter!
When Emeri is not teaching, she is very busy at home with her husband and three young sons.
Welcome to Gamma Chapter, Emeri Ferguson!
OCTOBER 2, 2021: NECROLOGY CEREMONY
During our October 2, 2021 we also honored three of our members who have passed away, and those in addendance offered memories and stories about them. The members we honored were: Carol Diane Kiefer, who was initiated in 1982 and who died in 2019; Miriam Hinton, who was initiated in 1957 and who passed in 2020; and Sara Herfel, who had been a member since 1988 and who died in 2020. Each woman was a valued member of Gamma Chapter, and we will remember and miss them.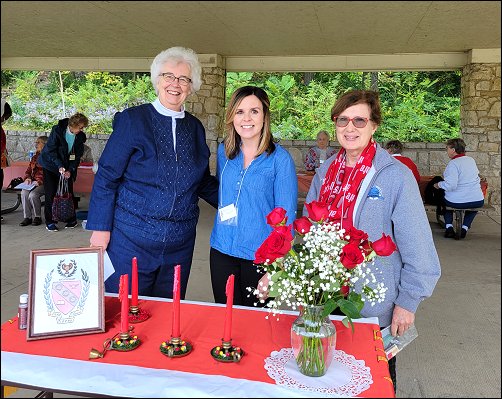 Linda Ruehrmund, new member Emri Ferguson, and Dorene Henschen
GENERAL INFORMATION FOR MEMBERS
GAMMA MEMBERS SING DELTA KAPPA GAMMA SONG
Watch (and listen to!) the video below of the Gamma, Ohio chapter members singing the Delta Kappa Gamma song.
SCHOLARSHIP APPLICATION AND REIMBURSEMENT FORM

Have you taken a class or workshop lately and want to apply for scholarship reimbursement?
You can download and print the guidelines and application form from our website right here and submit it to Judy Valentine.

Print the Scholarship Information Sheet

Print the Scholarship Reimbursement Form
GRANTS-IN-AID APPPLICATION

View and Print the Cover Letter / Application here.
PLEASE NOTE: Forms are also listed on the Links / Forms page.
EXPENSE / REIMBURSEMENT FORM
Joan Roettger has prepared an Expenses and Reimbursement Form.

View and Print the Expenses and Reimbursement Form here.
PLEASE NOTE: Forms are also listed on the Links / Forms page.
READ "THE VOICE OF ALPHA DELTA STATE" RIGHT HERE!
Now you can read the Delta Kappa Gamma "The Voice of Alpha Delta State" online.

Read current and past issues of "The Voice."
MEMBERSHIP

Do you have someone in mind as a new Gamma Chapter member? You can complete the Membership Form right here and have your potential member complete it and return it to the Membership Committe c/o Willa Mullins.