ANNOUNCEMENTS
NEW WEB SITE PAGE: MEETING ARCHIVES!


NEW! View photos and videos from previous Gamma Chapter meetings on our NEW "Meeting Archives" page! Photos and video from the past 12 months will be displayed on this Announcements/News page.
NOTE: Photos and videos that appear on this page are the original work of Ellen Clark or other Gamma Chapter members, and have been posted with Gamma members' permission. No copyrighted images have been used without express written permission from their owners/creators.
2019
SEPTEMBER 14, 2019: LEAP OF FAITH
On Saturday, September 14, 2019, Gamma Chapter members visited the Leap of Faith Dance Company to learn about their work and enjoy a performance by three of the dancers.
Leap of Faith Dance Company was established by Dave and Kelley Haney in 2003. Their vision was to establish a family ministry to deliver on their Mission Statement: "Our goal is to use the talents we have been blessed with to help children have fun, learn to dance, and understand valuable life lessons through scripture and Christian music…."
Leap of Faith offers instruction in contemporary, ballet/pointe, tap/stomp, jazz, hip hop and breaking for all levels from beginner through master.
Below are photos submitted to us by Leap of Faith, documenting our morning with them. We thank Taiylor Preston for the photographs.
JUNE 11, 2019 MEETING: URBAN ARTS SPACE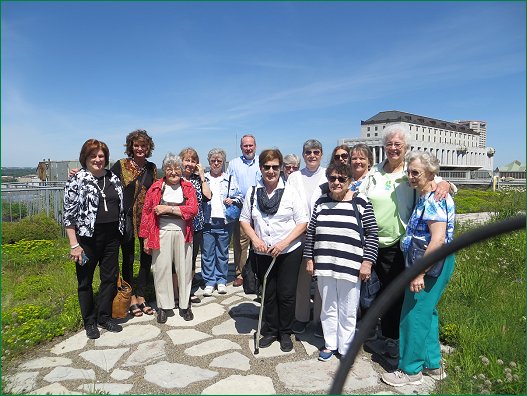 On June 11, 2019, we met at Urban Arts Space located at 50 W. Town Street.
Robert Turrin and Lizzie Howald were our tour guides of the gallery, garden rooftop, and the building's history and renovation to its environmental Gold Status.
On exhibit in the gallery were artworks of Ohio State emeritus faculty, H. Ike Okafor-Newsum, Robert J. Stull, and Pheoris West. The exhibit was entitled "Start At Home: Influence, Commitment, Integrity."
You can also visit the ir Facebook page here.
The slideshow below features our chapter enjoying the interaction with our guides and the beauty of this special gallery.
GAMMA MEMBERS ATTEND CONVENTION - APRIL 2019
The Alpha Delta State Convention was held from Aprl 5 -7, 2019 at the Columbus Polaris Hilton. Several Gamma Chapter members attended.

Please click each photo to enlarge it.

L-R: Dorene Henschen, Katherine Wheeler, Linda Reuhrmund, Michele Koenig, Janet Halter, Joanne Katonak, Willa Mullins, Judy Valentine, Linda Wright
MARCH 2, 2019: FABRIC ARTWORK WITH DKG LOGO
On Saturday, March 2, 2019, we met at Michele Koenig's home for a business meeting, followed by an art class, during which Michele taught us how to create unique Delta Kappa Gamma logo garments using fabric markers, stamps, fabric paint, and stencils. Chapter members created shirts, scarves, bags, and other items with the DKG rose on them. Below you can see our Gamma Chapter members creating their masterpieces.
FEBRUARY 2: INITIATION OF DIANE HENDRICKSON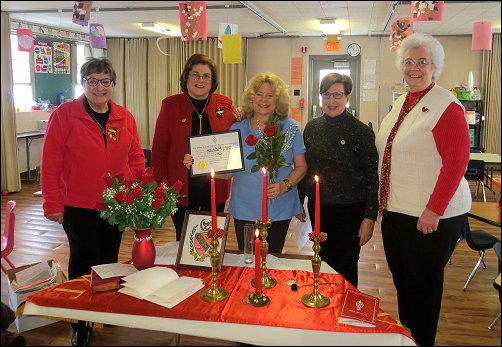 Willa Mullins, Reba Barney, Diane Hendrickson, Dorene Henschen, Linda Ruehrmund
Gamma Chapter welcomes new member Diane Hendrickson!
FEBRUARY 2: GOD'S HYGIENE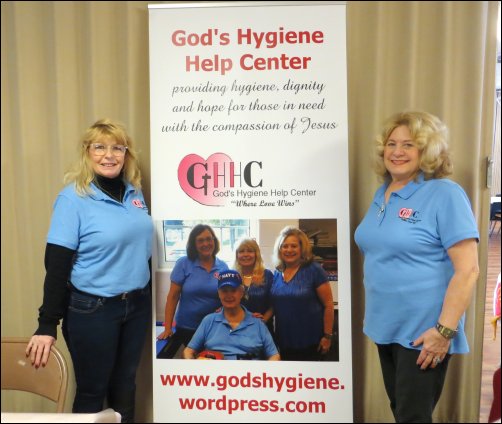 Tammy Jewell (left) and Diane Hendrickson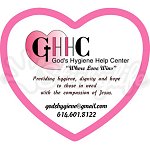 On February 2, 2019, our new initiate, Diane Hendrickson, brought her guest, Tammy Jewell, to discuss God's Hygiene Help Center, which is a local non-profit organization dedicated to providing hygiene, dignity, and hope to those in need with the compassion of Jesus. Tammy's compelling life story inspired and educated our chapter members, and gave us an insight into the needs of many individuals in our area who are in need of the most basic of personal supplies.
Through Upper Arlington Lutheran Church and Diane's help, Tammy established God's Hygiene as a nonprofit organization. She collects and distributes all kinds of personal care products to those who simply cannot afford to buy them.
God's Hygiene is located at 3016 Howey Road, Columbus OH 43224, and Tammy helps people by appointment. God's Hygiene Help Center is a 501 (c) (3) nonprofit organization, and your donations are tax deductible.

Visit God's Hygiene's Website

Visit God's Hygiene's Facebook page
2018
DECEMBER MEETING: THE OHIO STATEHOUSE
On December 1, 2018, Gamma Chapter members met at the Ohio Statehouse for a tour of the building and chambers. We then went to BurgerIM for lunch afterward.
NOVEMBER MEETING AND INITIATION OF PAT FARRENKOPF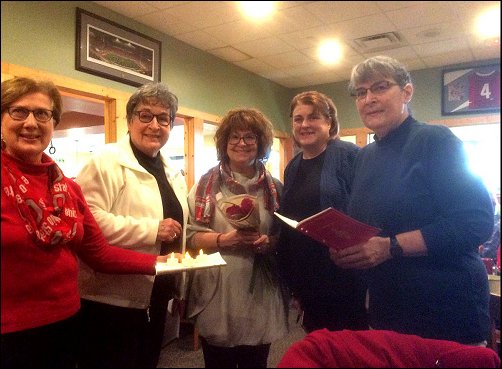 L-R: Dorene Henschen, Willa Mullins, Pat Farrenkopf, Reba Barney, Michele Koenig
Patricia (Pat) Farrenkopf was inducted into Gamma Chapter at our Sunny Street Cafe meeting on November 10, 2018. Welcome to Gamma Chapter!
Prior to our meeting, we participated in a silver sneakers stretching and exercise session at Lifetime Fitness.
JUNE MEETING AND INSTALLATION OF NEW OFFICERS: JUNE 9, 2018
On Saturday, June 9, 2018, Gamma Chapter members met at the Ironwoods Condominiums Clubhouse for a potluck lunch and the installation of our new chapter officers for 2018 -2019. We also honored and thanked our outgoing officers, who led the chapter with great skill and strength for the past year. We were then entertained by the always-popular CEAR (Columbus Education Association - Retired) Notes, who sang a variety of enjoyable songs.
June 9, 2018 Installation of New Chapter Officers: L-R: Linda Ruehrmund, Co-President; Dorene Henschen, Co-President; Sandie Trask-Tyler, Vice-President; Esther Panning, Recording Secretary; Mary Ann Wiedenheft, Recording Secretary; Janet Howson, Corresponding Secretary; Michele Koenig, Treasurer; and Joanne Katonak, outgoing Parliamentarian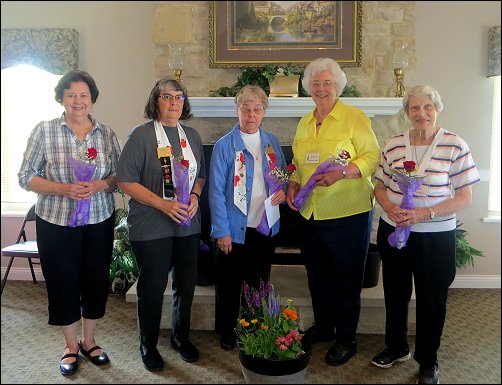 Please click photo to see all 20 meeting pictures
Thanking our outgoing officers (2017 - 2018): L-R: Dorotha Fuhrman, Recording Secretary; Michele Koenig, Treasurer; Judy Valentine, President; Linda Ruehrmund, Second Vice-President; Janet Howson, Corresponding Secretary. Absent from photo: Linda Wright, First Vice-President and Joanne Katonak, Parliamentarian.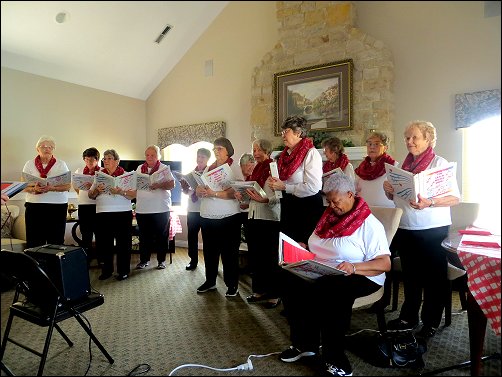 Please click photo to see all 20 meeting pictures
Several of our Gamma Chapter members belong to the CEAR Notes, a group of singers who are all retired teachers from the Columbus City Schools.
ALPHA DELTA STATE CONVENTION: APRIL 13-15, 2018
The Alpha Delta State Convention was held during the weekend of April 13-15, 2018 at the Hilton Columbus, Polaris.
A note from Judy Valentine:
Gamma Sisters,
Thanks so much for your support and attendance at the ADS Convention this weekend. Thanks to your attendance Gamma won the Chapter Attendance Award for 2018. See attached picture.
The award is based on percentage of members in attendance for our membership. Come to the June meeting to see the real thing.
Thanks again for all of your help with greeting and registration.
Judy Valentine
Past President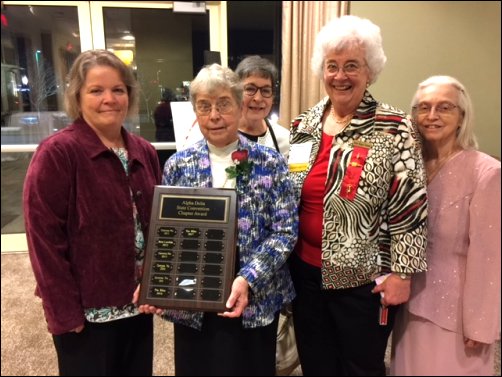 Pictured with the honorary plaque are: L-R: Janet Halter, Judy Valentine, Willa Mullins, Linda Ruehrmund, and Katherine Wheeler.
Thank you to Willa Mullins and Judy Valentine for the photos. Please click each one to enlarge it.
MARCH, 2018 MEETING: SCHOLARSHIP RECIPIENT THANKS CHAPTER
At our March 10, 2018 meeting, one of our teacher scholarship recipients explained how our financial donation helped her to purchase needed supplies for her classroom.
FEBRUARY, 2018 MEETING AT PIZZUTI GALLERY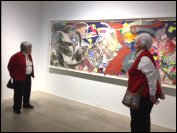 By Sandie Trask-Tyler: On February 10, 2018, we met at the Pizzuti Collection in the Short North for a guided tour of the current works of art.
Our two guides, Mark and Anne, shared their passion and expertise of the exhibits on display through April 29, 2018: PAIR: GLEN BALDRIDGE & ALEX DODGE, LINES/EDGES: FRANK STELLA ON PAPER, and NEW ON THE WALL (N.O.W.).
We all learned so much about the artists while viewing their outstanding and impressive artwork. Thank you to Janet Halter, Willa Mullins, and Sandie Trask-Tyler for contributing the photos in the slideshow.
VIEW THE SLIDESHOW.
GENERAL INFORMATION FOR MEMBERS
GAMMA MEMBERS SING DELTA KAPPA GAMMA SONG
Watch (and listen to!) the video below of the Gamma, Ohio chapter members singing the Delta Kappa Gamma song.
SCHOLARSHIP APPLICATION AND REIMBURSEMENT FORM

Have you taken a class or workshop lately and want to apply for scholarship reimbursement?
You can download and print the guidelines and application form from our website right here and submit it to Judy Valentine.

Print the Scholarship Information Sheet

Print the Scholarship Reimbursement Form
GRANTS-IN-AID APPPLICATION

View and Print the Cover Letter / Application here.
PLEASE NOTE: Forms are also listed on the Links / Forms page.
EXPENSE / REIMBURSEMENT FORM
Joan Roettger has prepared an Expenses and Reimbursement Form.

View and Print the Expenses and Reimbursement Form here.
PLEASE NOTE: Forms are also listed on the Links / Forms page.
READ "THE VOICE OF ALPHA DELTA STATE" RIGHT HERE!
Now you can read the Delta Kappa Gamma "The Voice of Alpha Delta State" online.

Read current and past issues of "The Voice."
MEMBERSHIP

Do you have someone in mind as a new Gamma Chapter member? You can complete the Membership Form right here and have your potential member complete it and return it to the Membership Committe c/o Willa Mullins.